At RAID (SMB) we treat safety very seriously. To help educate and encourage better safety we have launched our new program DIVE SAFE.
Your Dive Safety starts before you even book your trip and doesn`t end until you are home safely. Through this program, we will share with you practical tips and knowledge you can use when picking a dive center or dive boat, procedures to follow, equipment to carry, etc.
Everyone must think and act DIVE SAFE; it cannot be done by one individual.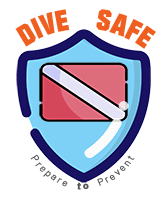 BEFORE YOUR DIVE
Start thinking safety before you even book your dive trip. Find out more here... COMING SOON
DURING YOUR DIVE
Safety during diving is taught during many course, we share and remind you of safety knowledge during your dives. Find out more here....COMING SOON
AFTER YOUR DIVE
Often over looked, your saftey doesn`t stop when you surface; or even when your on the boat. Find out more here...COMING SOON